Ways to Save Money on Your Outdoor Lighting System
Outdoor accent lighting can increase the value of your home. Not only will you make your property more beautiful at night, but you will make outdoor entertaining at night safer, and a well-lit property is just overall more secure. All homeowners are budget conscious, and landscape lighting is an investment. Having a great landscape lighting design within your budget is possible when you work with the right landscape lighting contractor.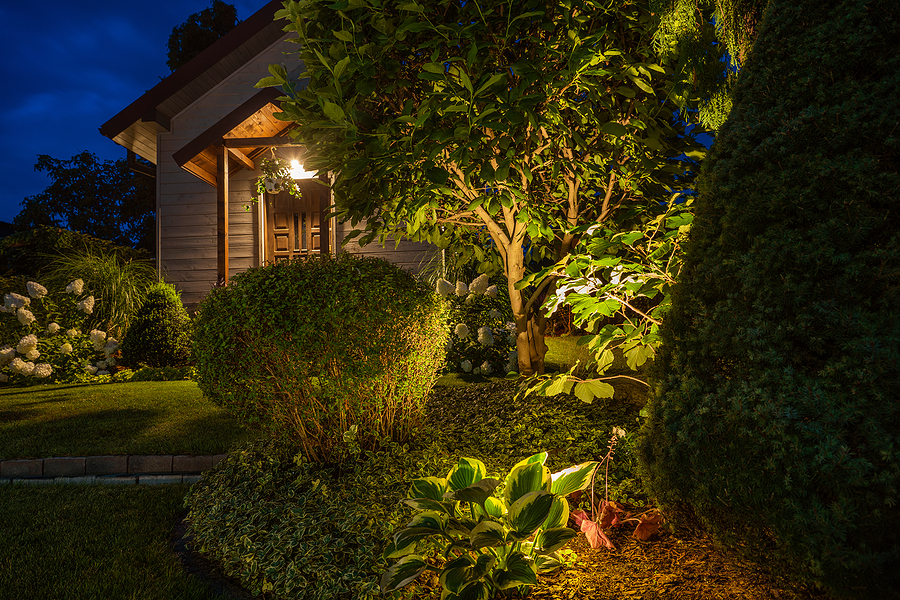 Saving on Your Outdoor Accent Lighting Purchase
Before you purchase your outdoor accent lighting, make a plan of what areas you want to light and plot out how many lights you think you'll need. Many homeowners make the mistake of purchasing too many lights, especially for walkways. The goal is to see the path, not the lights. A staggered effect with fewer fixtures makes the lighting look balanced. Moonlighting, which is a lighting technique that casts light down over a wide area, mimicking the light of the moon, is a great way to save on fixtures and still light your space in a beautiful way. When you are planning your outdoor accent lighting, look at the areas, what you want the lighting to accomplish (aesthetics, security, safety), and talk to your lighting designer for the most efficient way to light these areas.
Save on Your Landscape Lighting Design Installation
When you are dealing with wiring and electrical work, especially outdoors, you need the help of a professional. There are too many things that can go wrong if you try to do this project on your own. When you do your initial plan, consider the wiring. If long cables and wires need to be run, a new box needs to be installed, or you are running lights near water, those will increase your installation costs. Plan your landscape lighting design so you have the least amount of electrical work needed.
Invest in LED Bulbs
LED lighting will save money on your energy bills and do good for the environment as well.  The cheapest ones will need to be replaced more often and will use more energy. If you purchase high quality, energy efficient LED bulbs, your energy use will go down, and you won't need to replace them nearly as often.
Keep Up with Maintenance
Outdoor lighting is designed to deal with the elements, and the rugged design can withstand most of what the weather will throw at it. However, that doesn't mean that you can install your lighting and ignore it. If you don't maintain your landscaping lighting, it can break down, costing you in necessary repairs and replacements. To make sure you don't have to spend more down the line, keep an eye out for damaged cables, remove built-up debris regularly, keep the bushes and trees near the lighting trimmed back, and change out damaged bulbs as you notice them.
When trying to save money on your landscape lighting design, think both long and short term. By planning out an efficient design, you can save money on the purchase and installation. By choosing energy efficient options, you will save money in energy costs. For help in designing and installing your outdoor accent lighting, look to the professionals for the best options and expertise. If you've been thinking about adding outdoor lighting around your property, contact Sprinkler Pro to learn more about our design and maintenance services.
We Use products from the following companies