What Maintenance is Required for My Landscape Lighting System?
Once you've made the decision to install outdoor accent lighting, you need to make sure that you are protecting your investment with regular maintenance. All systems experience performance deterioration over their lifespan, and landscape lighting is no different. If you take the time to maintain your outdoor accent lighting, you will optimize your landscape lighting design performance.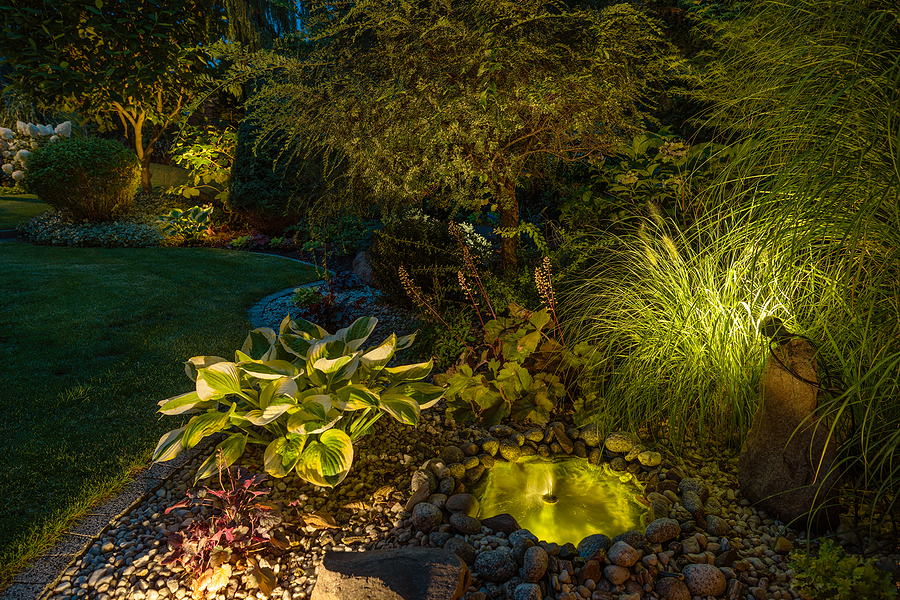 Replacing Lamps in Your Landscape Lighting Design
Just like anything, the bulbs in your landscape lighting have a lifespan, and will stop working after a time. Before they stop working altogether, you may notice they are dim. When you first notice the dimming, that is the time to have the lamps replaced. Different components may require different bulbs, and incorrect bulb replacements can damage your system, so make sure you have consulted with the professionals when replacing the lamps that are going out.
Clean the Fixtures of Your Outdoor Accent Lighting
Your outdoor accent lighting needs cleaning, just like every other aspect of your property. Without proper cleaning, the lights can become damaged, and even stop working entirely. Debris and dust can build up on your outdoor lighting fixtures and cause issues with the functionality. The overall system needs to be cleared of debris, such as overgrown plants and branches, and generally cleaned regularly for optimal performance.
Repairing Your Landscape Lighting System
Wiring issues can arise, especially if you didn't have a professional install your system. Any wiring issues should only be addressed by lighting professionals. Working with electrical components, especially outdoor electrical components, is not a job for a DIYer. If you had your landscape lighting system installed by an expert, these repairs will be easy, as these professionals will understand your system and will know the details of the installation. If not, it may take more time to diagnose the issue. Some electrical components may need to be replaced after some time has passed.
Adding to Your Landscape Lighting Design
As time goes on, you may want to add to or modify your current landscape lighting design. Certain areas may be dim, not because of worn out bulbs, but because of insufficient lighting to the area. If you schedule your routine or necessary maintenance with a landscaping light design professional, you can take advantage of their visit to your property to enhance your current outdoor accent lighting, and ask them for advice on how to proceed.
How Often Do You Need to Perform Maintenance?
If you wait until you notice a problem to perform basic maintenance, you are likely going to need to do more. Routine maintenance should be performed at least once a year. Twice a year maintenance is even better, and will further extend the life of your outdoor accent lighting. When you schedule maintenance with the professionals, they will thoroughly examine the entire system, resolve all problems, perform all necessary cleaning, check for overgrowth of plants, trees, and shrubs, and make any necessary suggestions for upgrades. The professionals can often anticipate a problem before you even notice it, and preventative maintenance will save you from more costly repairs later on. If you notice a problem with your electrical system, it is always best to get it taken care of right away.
When you hire a professional for your landscape lighting system maintenance, you won't need to guess at what the problems are. Landscape lighting design experts will be able to keep your system running at peak performance and will extend the lifespan of your outdoor accent lighting. It's a great way to protect your investment. To learn more about our landscape lighting maintenance services, contact Sprinkler Pro today!
We Use products from the following companies