What is the Best Way to Dig a Trench?
If you need to dig a trench for a home improvement project, such as laying utility pipes, running electrical from one building to the next, or expanding a drainage system, you may be weighing the benefits of hiring a trenching contractor versus renting the equipment and digging a trench on your own. While renting heavy equipment and trenching the project yourself seems doable, there's a lot more that goes into the job, and hiring a professional is the best way to tackle this part of the project.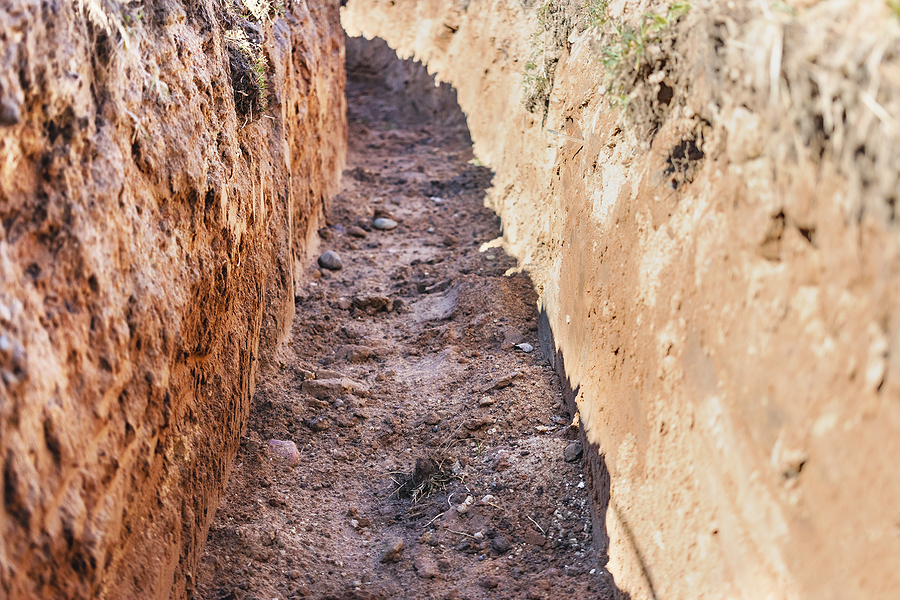 Challenges of Digging a Trench on Your Own
Digging a trench may seem simple, but that's not always the case. Attempting to dig a trench on your own can pose many challenges. First, you need to make sure that you are digging in a safe area. You don't want to encounter any wiring, pipes, or other underground hazards. If you think that you will only need a small trench for a simple project, you may only want to use a shovel. A trench digging shovel can only dig a narrow, flat-bottomed trench, and this will require a good amount of hard labor to complete. If you need a bigger or deeper trench, you will likely need heavy equipment.
Although you think you may be saving money by digging the trench yourself, the equipment rental can end up costing nearly as much and you don't have any experience using it. As a novice with this equipment, the process is time-consuming, difficult, and can be more expensive than you thought. A poorly dug trench can create safety issues and may compromise your project outcome, and you just don't know what you don't know. Just because equipment is available to rent doesn't mean anyone should use it.
Benefits of Digging a Trench with Professionals
The professionals have all the right equipment to tackle any trenching project you have. This equipment can not only dig through soil, but can even tackle cutting through or under asphalt and concrete. When you need a deep or long trench, particularly when it could potentially run into underground wiring or piping, you need an operator who has experience to do the job safely. They know how to avoid cave-ins, falls, and other hazards that can come from digging a trench.
The Easiest Way to Dig a Trench is to Hire the Right Team
The easiest, most efficient, and successful way to dig a trench is to hire the right team with the proper credentials and experience to do the trenching work for you. There are many facets of this seemingly easy job, and unexpected challenges can arise. Anytime you are working your way through a DIY home improvement project, there will be portions of the job that require professional intervention, and trenching is one of them.
If you're getting ready to start a project that will require trenching, consider hiring a professional to handle the digging for you. There are many benefits to hiring a trenching contractor, and doing so will lead to a safe, efficient, and successful project outcome. Digging a trench yourself could present challenges you weren't expecting, and can end up costing you more than you save in damages and repairs. Contact Sprinkler Pro to learn more about how we can save you time and stress with our professional trenching services.
We Use products from the following companies