DIY vs. Professional Landscape Lighting Installation: Costs and Comparisons
Deciding to put in landscape lighting is an investment in your property, and many homeowners wonder if this is a project they can tackle on their own. Outdoor lighting kits are available, and some look as easy as sticking a lamp in the ground. But there is a big difference between what you can do on your own and hiring a professional to install your landscape lighting.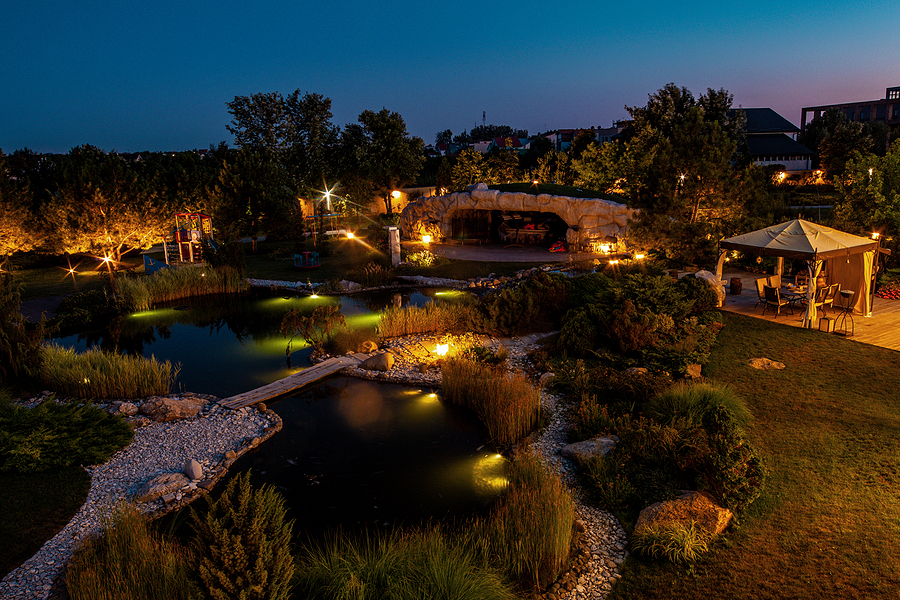 Understanding Your Estimate for Installing Landscape Lighting
When you see outdoor lighting at your local home improvement store for only a few hundred dollars, it can be surprising to see an estimate come in from the professionals that is much higher than that. Many homeowners aren't sure what goes into the estimate, and what the advantages are.
Your professional landscape lighting designer isn't working with the cheap products you've seen for sale in local big box stores. They use high quality fixtures made of copper, brass, and other materials that will stand up to the elements and perform very well for many more years than products available to you as a consumer. With a professional installation, LED lamps will be built to the specifications that work for your property. The connections and wires will be watertight and built to last.
You are hiring a professional for a reason. Your landscape lighting designer will work to find the lighting system you need, and then determine the best way to go about installing landscape lighting. Your property is unique, and a one-size-fits-all lighting package isn't the best option to highlight your outdoor features. Just like everything else, you get what you pay for. If you're investing in your property, it should be high quality and built to last a long time.
What Goes Into the Installation Costs?
The materials are part of the cost, but you are also paying for the professionals to handle those materials right. When you hire a professional to install your landscape lighting, you are getting more than just the lighting you can buy at a local store and plug into an outdoor plug. A professional grade system is designed to be installed by an experienced technician. A professional knows how to keep all the wiring well-insulated and protected from water. They will understand exactly what kind of wiring you need for your landscape lighting design, how to make the electrical connections, and how deep the wires will need to be buried. Working with outdoor electricity can be extremely dangerous if you lack the experience and knowledge to do it right.
In addition, you will also be getting the design expertise from the professionals. You may have a general idea how you want your lighting to look, based on images you've seen or other properties you admire, but when you pay someone to handle installing landscape lighting, you are paying for their knowledge of what will work best with your particular property. A professional understands downlighting, up lighting, grazing, and area lighting. They know which trees to illuminate and how to best light your outdoor entertaining spaces.
Advantages of Hiring a Professional to Install Landscape Lighting
When you've invested a lot of time, energy, and money into making your home look inviting and beautiful, you don't want it to look like you've cut corners and settled for shoddy work. Outdoor lighting can make your home look beautiful at night, providing ambiance as well as safety and security, but designing and installing landscape lighting is more than just putting lights in the ground. When you hire a professional, you are getting the quality materials, design experience, and electrical knowledge to have a landscape lighting design that really works with your property.
A professional outdoor lighting installation will increase curb appeal and make your home more safe and secure. A professional can avoid the issues that many DIY homeowners struggle with, such as faulty grounding, overloaded circuits, and weak connections. A professional has the right eye and can give your home's exterior just the right touch. We have the experience and knowledge to custom design the perfect outdoor lighting package for your property. Our systems are easy to use, and they're a great way to invest in one of your most valuable assets-your home. Contact Sprinkler Pro to learn more about our professional outdoor lighting installation services.
We Use products from the following companies