Factors That Can Change Outdoor Lighting Installation Costs
Outdoor landscape lighting adds beauty and function to your property, and is a good investment for nearly every homeowner. You will enjoy increased safety and security at night, as well as the ability to showcase your home and property. While every home can benefit, there are several factors that can change outdoor lighting installation costs.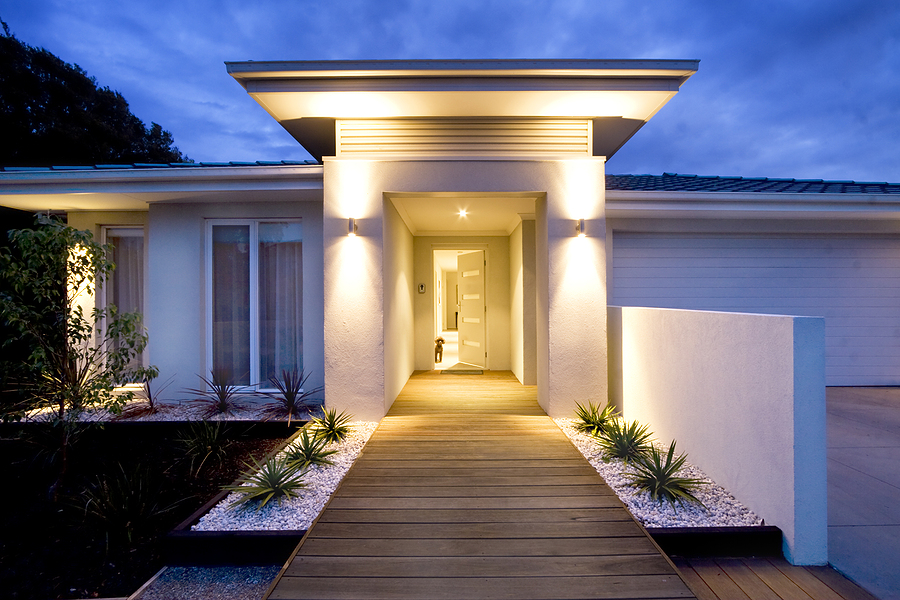 How Much Does it Cost to Install Outdoor Accent Lighting?
The bigger the area and more lights used, the higher the cost will be. Hiring an electrician or landscape designer with outdoor landscape lighting installation experience will be well worth the cost.
Factors that Influence the Cost of Outdoor Accent Lighting
There are many factors that will influence the cost of outdoor accent lighting. The type of fixtures, location on property, number of lights needed, power source, materials for both fixtures and bulbs, and design services needed will all influence the overall cost. A small property looking for simple mounted lights at the garage and patio will find that their costs are quite low, while a homeowner looking for motion sensors, lighting that enhances the landscaping, and higher end fixtures will pay more. Older homes may need electrical panel upgrades or changes to their exterior outlets to keep them up to code, while newer homes are typically wired to support outdoor accent lighting.
Does Installing Landscape Lighting Add Value?
Landscape lighting does add value to your home and makes your home much more attractive to potential buyers. Landscape lighting in front will enhance curb appeal, and landscape lighting in the outdoor entertaining areas will allow buyers to picture themselves enjoying your home. Some of the lighting techniques that increase the home value the most are:
Highlighting – placing the light at the base of a feature
Silhouetting – placing the light behind the feature toward a wall
Shadowing – placing the light at the base of a feature toward a wall
Washing – placing the light a few feet away at an indirect angle toward a wall
Up-lighting – placing the light directly at the base with a more direct angle than washing
Down-lighting – placed in an eave, trellis, or hardscape and shining down
Moonlighting – soft fixtures placed high and angled down
Accenting – angled up or down with a narrowed beam
Path-lighting – staggered and illuminating a path, especially at any steps or bends
In-grade – installed in surface, usually at the base of a stone wall or hardscape to highlight the surface
The Benefits of Using a Professional When Installing Landscape Lighting
A landscape lighting designer can help you choose outdoor lighting that will improve the curb appeal of your home. If you have invested in outdoor living spaces, installing outdoor lighting is essential to ensure that you are getting the full use of those living spaces. A professionally installed system can be set up for the specific needs of your property, which will allow your lighting designer to focus on the areas that will improve the curb appeal. You never want to try and tackle electrical work, especially outdoor electrical work that will be exposed to the elements, unless you have  a lot of knowledge and experience. Since most homeowners aren't electricians, trusting a professional to help you design your outdoor accent lighting, as well as installing landscape lighting, is well worth the investment.
Outdoor lighting can enhance the architectural design of your home, make your pathways safer to navigate, and boost your overall security. Hiring a professional to guide you through the design process and provide you with options and features you can add can help you bring your vision to life. Installing landscape lighting is an investment and it's well worth it to hire an experienced team who can get the job done efficiently and correctly with the right knowledge and tools so everything looks and functions the way it should. If you've been thinking about adding some outdoor lighting to your property, contact Sprinkler Pro today.
We Use products from the following companies